Reducing operating costs
After it's built, wastewater treatment systems are typically used for several decades. That makes minimizing operating costs, the cost of operating the facility, just as important as reducing equipment costs, or initial costs. Surging environmental awareness in recent years has focused a great deal of attention on energy-saving and energy-recovery technologies.
Reducing operating costs with an anaerobic treatment system (energy recovery, sludge reduction, power conservation)
BIOIMPACT anaerobic treatment system
Aerobic treatment is generally used for biological processing for its wide applicability. Anaerobic treatment system provides significant benefits, like energy savings, energy recovery, and sludge reduction for certain environment.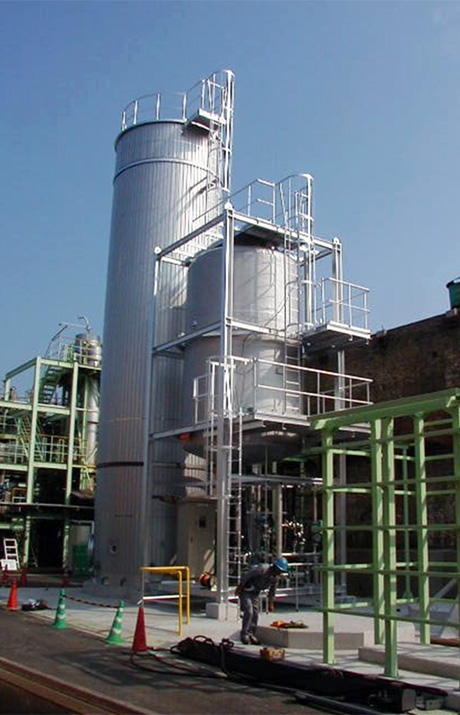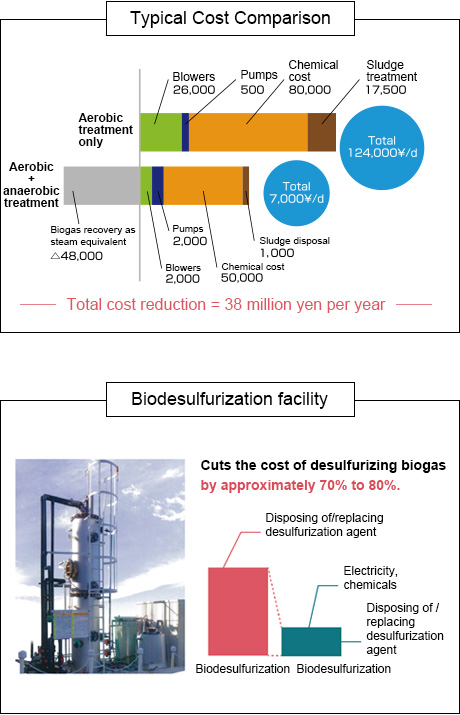 Energy recovery
Generated biogas (methane) can be used as a fuel gas to operate steam boilers, power generators, and other equipment.
Reducing aeration blower power
For wastewater treatment facilities, the cost of aeration blower power accounts for a significant portion of total operating costs. Anaerobic treatment systems consume very little drive power to treat organic matter, significantly reducing aeration costs.
Reducing sludge volume
Surplus sludge generated by anaerobic treatment equipment accounts for only about one-fifth of the amount generated by aerobic system. Anaerobic treatment system reduces the cost of industrial waste disposal and the cost of dewatering agents and dehydrator drive power.
Biodesulfurization (further cost reductions achieved by anaerobic treatment system)
The conventional dry or wet desulfurization method requires a substantial amount of desulfurization agent or caustic soda.
Instead, the biodesulfurization process uses microorganisms to remove hydrogen sulfide, thereby reducing costs by 70% to 80%.
High-efficiency aeration system minimizes the blower power.
MICRAS high-efficiency diffuser system Turbo blower
The diffuser system generates microbubbles to effectively dissolve oxygen in water, thereby reducing the amount of required airflow. Furthermore, the use of high-efficiency turbo blowers and the efficient control of multiple blowers can reduce electricity consumption. Since energy-saving measures often reduce agitating power, SUMITOMO uses flow simulations to create designs that achieve optimal flow conditions in the tanks.

Improving oxygen dissolving efficiency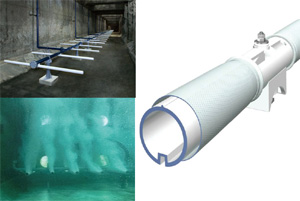 MICRAS high-efficiency diffuser system
Membrane diffuser system (MICRAS) dissolves oxygen efficiently, significantly reducing the amount of airflow required.
Reducing blower driving power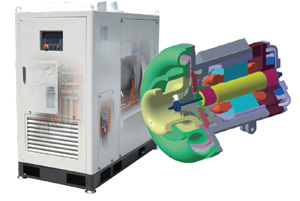 TURBO MAX high-efficiency blower
The ideal blower model for energy conservation needs and its control methods depend on the amount of water processed, the properties of the processing target, and fluctuations in these parameters. The power consumed by blower motors can be dramatically reduced by using turbo blowers incorporating pneumatic bearings for minimal mechanical loss and by controlling the on-off operation of multiple blowers.
Flow simulation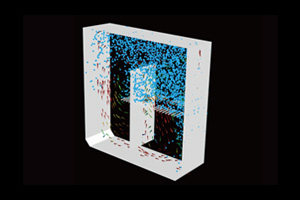 Optimizing flow condition in the tank
(Flow simulation)
Airflow volume and air bubble size have a complex intertwined relationship with agitating power. We perform flow simulations to determine the ideal location for the diffuser system and the ideal amount of aeration needed to achieve energy savings and maintain proper agitating power.
Solubilizing sludge by heat/alkali
SAT-CHEL sludge dissolution equipment
To reduce operating costs by dissolving and reducing sludge volumes, we need to examine the balance against the costs of energy (such as heat) and chemicals. Where available, exhaust heat or waste alkali can be used to dissolve sludge and reduce sludge volumes.
In combination with an anaerobic treatment system, such systems can harness biogas energy to dissolve sludge and reduce sludge volumes.
In systems that use SAT-CHEL, caustic soda effectively serves two functions: dissolving sludge and sludge neutralization. Biogas can also be used for heating.
単一槽内での可溶化可能。メタン発酵設備の前段に水槽を設けるだけのシンプルなシステムです。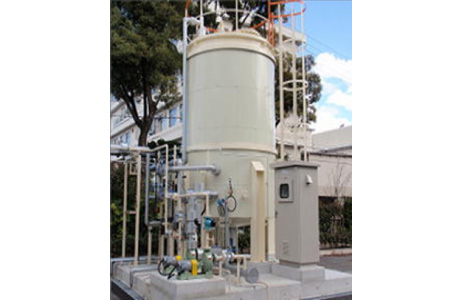 External view of SAT-CHEL system
Effective use of alkali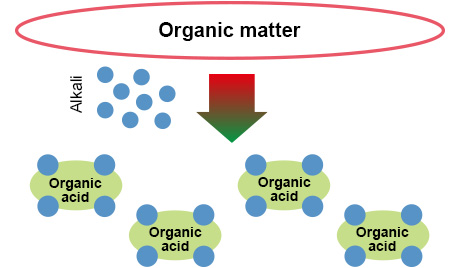 When organic matter decomposes into simple molecules, it becomes organic acid. Since the added alkali is used to promote both solubilization and neutralization, there's no increase in the amount of alkali used.
High sludge reduction rate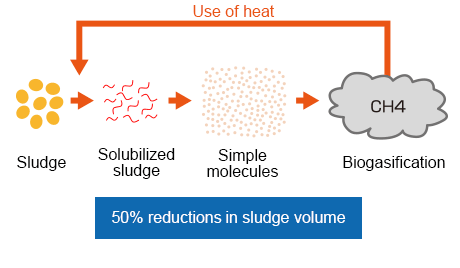 Biogasification of solubilized sludge dramatically reduces sludge volumes.
Solubilizing sludge by using heat/shearing forces
AsRES sludge dissolution equipment
Activated sludge is in an energy-stable state (not easily be reactive). This means significant energy is required to solubilize it and make it more reactive. It's theoretically inefficient to solubilize activated sludge and process the solubilized sludge once again using an activated sludge treatment system.
However, in certain circumstances—for example, when there is surplus heat energy or when the sludge disposal is especially expensive due to regional circumstances or other factors—costs can be curtailed by solubilizing the sludge and reducing sludge volumes, despite the energy required for that process.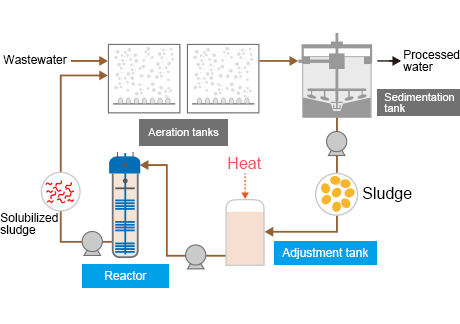 This simple system is installed on the sludge return line.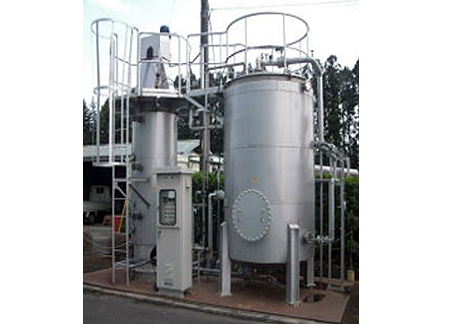 External view of AsRES system
High sludge reduction rates
Heating and shearing forces applied by the sieve plate (perforated plate) provide high dissolving efficiency.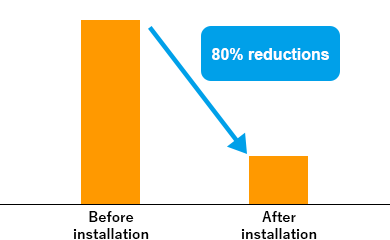 Cost reductions and rapid delivery
The standardization of product models lowers equipment costs and reduces the time for fabrication .