BIOIMPACT anaerobic treatment system
Sumitomo's high-efficiency anaerobic wastewater treatment system
The anaerobic treatment system uses anaerobic microorganisms to decompose the target wastewater. It doesn't require aeration. The methane gas generated by the decomposition process can be recovered as energy for electricity or steam. The process generates significantly less sludge than the aerobic treatment.
BIOIMPACT Anaerobic Treatment System
The BIOIMPACT system is available in capacities ranging from 1,000 m3 to several tens of thousands of m3 per day. These compact systems offer space-saving solutions that treat even large volumes of wastewater.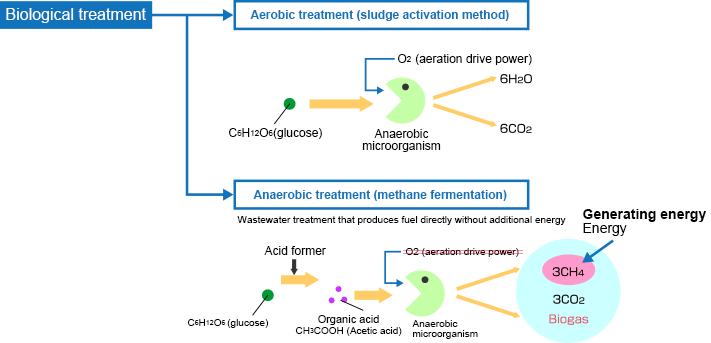 System flow
The system promotes acid formation in the water in the acid formation tank. The methane fermentation that takes place in the Reactor generates a gas that removes organic matter.
The special separation equipment (settler) located in the upper section of the Reactor separates solids, liquids, and gases.
BIOIMPACT modules
This modular treatment system is designed to process small or medium water volumes. Thanks to the standardized design and production, modules can be delivered with short lead times and construction periods.
Product line up
Backed by a broad line up of products, we propose the ideal system for each customer based on requirements like water volume and water quality along with construction requirements.