Rotary vacuum filter
Vacuum dehydrator capable of processing large volumes of high-concentration slurry
Ideal for a wide range of applications

Features of the Rotary Vacuum Filter
Rotary vacuum filters are used to process a wide range of slurries across an equally diverse range of production lines.
Our products feature a simple structure and save installation space.
For particles measuring 10 μm to 100 μm in diameter, rotary vacuum filters can provide better filtering performance than pressure dehydrators.
We offer various models to suit specific slurry characteristics and processing performance requirements.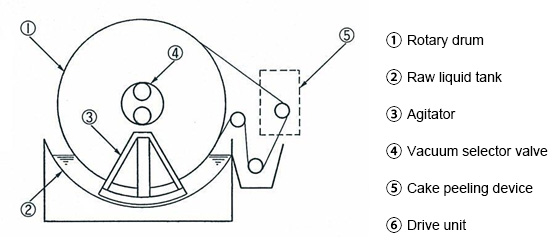 Type
Belt filter
Knife filter
Roll filter
Precoat filter
Minimum case
thickness
3~5mm
4mm
1mm
0mm
Peeling system
Automatic peeling
or
spiral roll
Scraper
or
air blower
Sticking roll
or
scraper
Filter aid
or
scraper
Peeling device
structure
Examples of use and application